May 5, 2023
Free Edition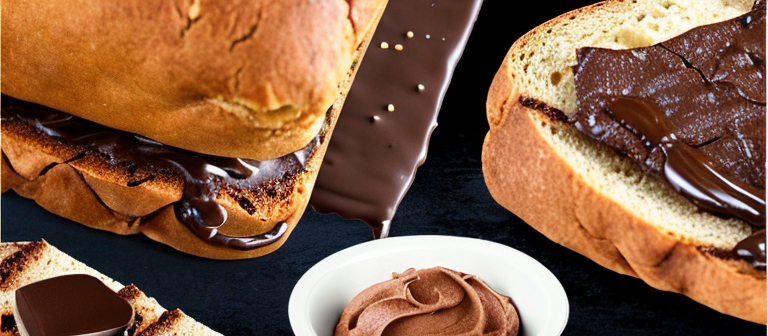 In This Issue
---
We now have a Referral Program to read the Splendid Edition of Synthetic Work for free. Potentially.
The World Economic Forum published its Future of Jobs Report 2023.
IBM CEO says "I could easily see 7,800 jobs replaced by AI and automation over a five-year period."
Chegg Inc. share price crashed from $17.60 (close) to $8.80 (low) after the CEO said that ChatGPT is having an impact on their new customer growth rate during the earnings call.
The CEO of TurnItIn says that thanks to AI, in 18 months, he will only need 20% of the few hundred engineers he's employing now. And that he'll hire them from high school.
Yuval Noah Harari told The Telegraph that our economic system sees millions of people as completely useless.
The godfather of artificial intelligence, Geoffrey Hinton, resigned from a post at Google he held for more than a decade so that he could openly talk about the risks of AI without damaging the company.
New academic research shows that patients prefer the interaction with ChatGPT to the one with doctors.
Bing AI can be used to hide our inadequacy on Twitter, LinkedIn, and any other online community.
P.s.: This week's Splendid Edition of Synthetic Work is titled Personalized Ads and Personalized Tutors.
It covers what Khan Academy, UC San Diego Health, UW Health, WPP, VentureBeat, and King (the maker of Candy Crush are using AI for. It also reviews the new GrammarlyGO, and shows you how to use the step-by-step prompting technique.
The Splendid Edition of Synthetic Work is a weekly report written by a former Fortune 1000 tech executive and Gartner analyst on:
how your peers are using AI in your industry (Education, Finance, Government, Health Care, Media & Entertainment, Tech, etc.)
what are life-changing AI tools that can enhance your productivity at work (tested or used by me personally)
why and when to use specific techniques (like prompting) to improve your interaction with the AI
how you can use AI to perform tasks that matter in your profession
If it sounds interesting, consider a paid membership (or upgrading your existing membership):
https://synthetic.work/subscribe
Intro
---
Almost three months in, Synthetic Work starts to take shape.
The Free Edition of the newsletter, the one you are reading right now, continues to focus on tracking how AI is impacting the job market and the way we work, and what it means for you.
As I said from day one, the Free Edition is not about regurgitating the news, but connecting the dots scattered across news, academic research, charts, surveys, social sentiment analysis online and offline, and everything in between.
By the way, connecting the dots, for me, also means experimenting with all the technologies we mention here, so that we actually have a clue of what we are talking about (a rare quality these days). I spend endless nights using every AI tool I can get my hands on just to understand how it feels to use it, and to try and put myself in the shoes of those who will use these tools for the first time.
When you start aggregating and curating the data collected from all these information channels, a deeper picture emerges, and that's what I hope will inform all of you about what's happening and what's the best course of action to react.
As you will read below, the evidence that AI impacting the job market is multiplying and, with it, the attention on Synthetic Work.
There are multiple CEOs, Chief Human Resources Officers, and other top executives from large companies among the readers of this newsletter. There are also teachers, photographers, sales managers, marketing interns, occupational psychologists…you name it.
We are all coming together with a growing sense of urgency that what's happening deserves our attention more than anything else we've seen in the past.
The Splendid Edition of the newsletter is, hopefully, helping you to be prepared for what you read in the Free Edition:
At a company level, it tracks who's actually using AI among your industry peers and competitors, to understand who's pulling ahead and if AI actually works for this or that use case (it's often all lies, you know?).I cannot emphasise enough how critical this information is for those companies that are still trying to figure out if it's time to test AI solutions or wait more time.
At a personal level, it provides the knowledge you need to interact better with AI by, for example, suggesting how to improve your prompts or what are best tools/products/services for a certain business task thanks to AI superpowers.
To further help on these fronts, I'm creating a number of tools that organize the information that I shared so far via the newsletter and beyond.
Two weeks ago, I announced the upcoming Best AI-Centric Tool for X database. (it's not out yet, and that name will change).
One week ago, I activated the AI Adoption Tracker that shows you what organizations in what industries are using what type of AI (from what technology provider) for what use case.
Today, I activated the How to Prompt database. It's a database of techniques to write better prompts that can be used with a variety of AI tools, like Bing, ChatGPT, GPT-4, Dall-E, Midjourney, or Stable Diffusion.
When is the last time you visited the Synthetic Work website? Go take a look. These tools are now grouped in a new tab on the homepage titled "Tools to Learn AI".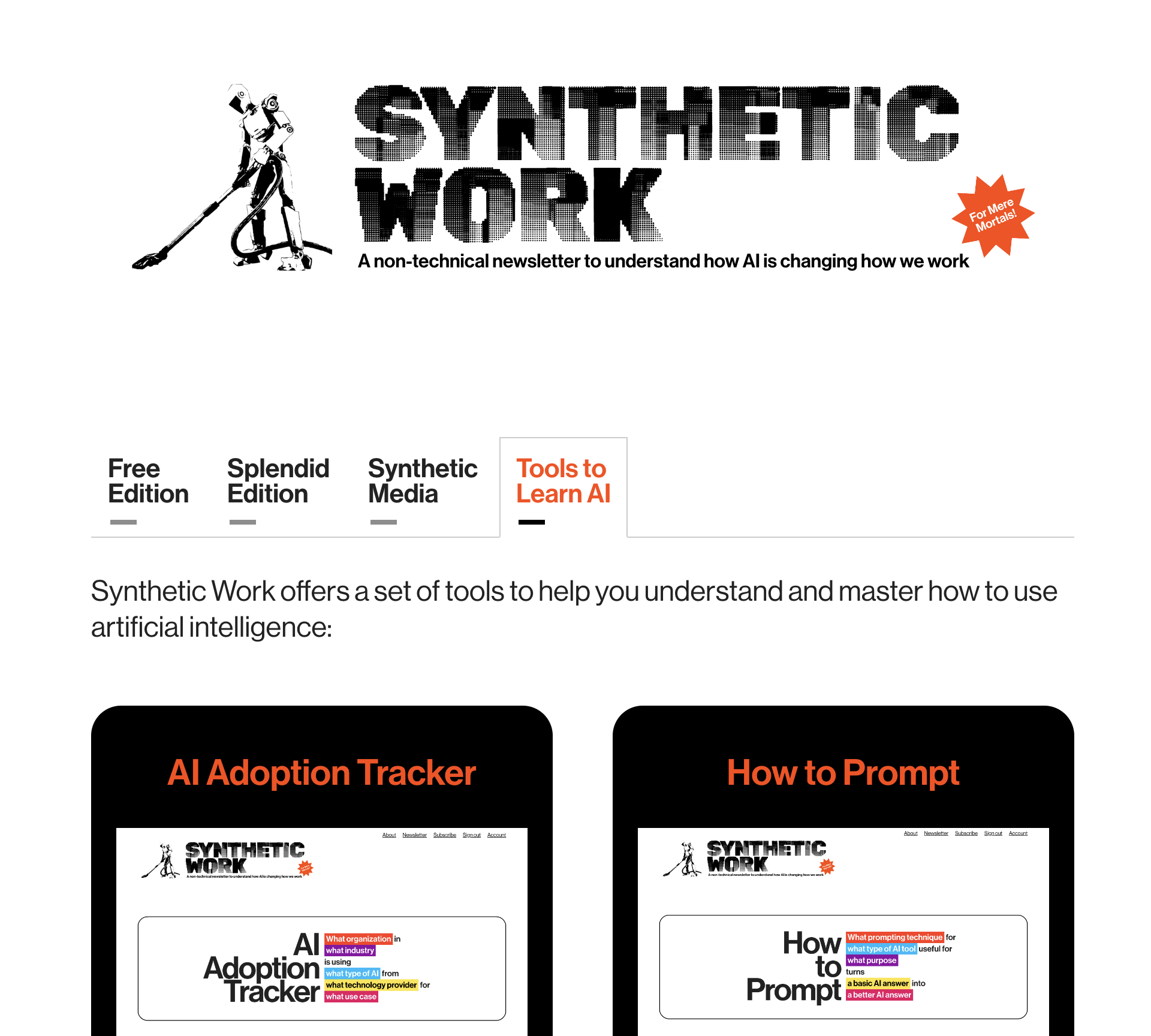 I am considering the idea of creating a What to Prompt tool, as well. Some of you have written candidly admitting: "I know that ChatGPT can do a lot of things, but when I go there I can't help but stare at the blank page and I don't really know what to do with it."
And this is despite an ocean of infographics inundating social media networks about tips and tricks on how to use AI. Perhaps because many examples shared on social media have no real use in the business world or are not specific to our profession?
Can we do a better job here? If so, how?
If you think that What to Prompt might be useful, reply to this email with some feedback or ideas.
Other than these tools, there are another 700 things that I'd like to do, and this week, finally, OpenAI gave me access to the GPT-4 API, so those 700 things might happen.
We'll see if I'll get to chance to build Synthetic Work in the way I originally envisioned, and if it's useful to all of you as I originally hoped.
Want to read the Splendid Edition for free?
More and more people have expressed the desire to read the Splendid Edition and access these new tools I'm building.
I understand that not everybody can afford the price of the memberships that give you access to both, but research is phenomenally expensive and Synthetic Work won't be a sustainable project without paid memberships.
To help out, I created a Referral Program. Here's how it works:
Go to your Memberful account panel and then to the Referrals section.
If you don't remember the URL, it's:
https://syntheticwork.memberful.com/account/referrals/rewards
Copy your unique URL. If you can convince other people (real people, not AI people, please) to sign up for the newsletter (even the Free Edition) with that URL, you get one of the three discounts available.
If you manage to convince 10 people, you get 100% off next month.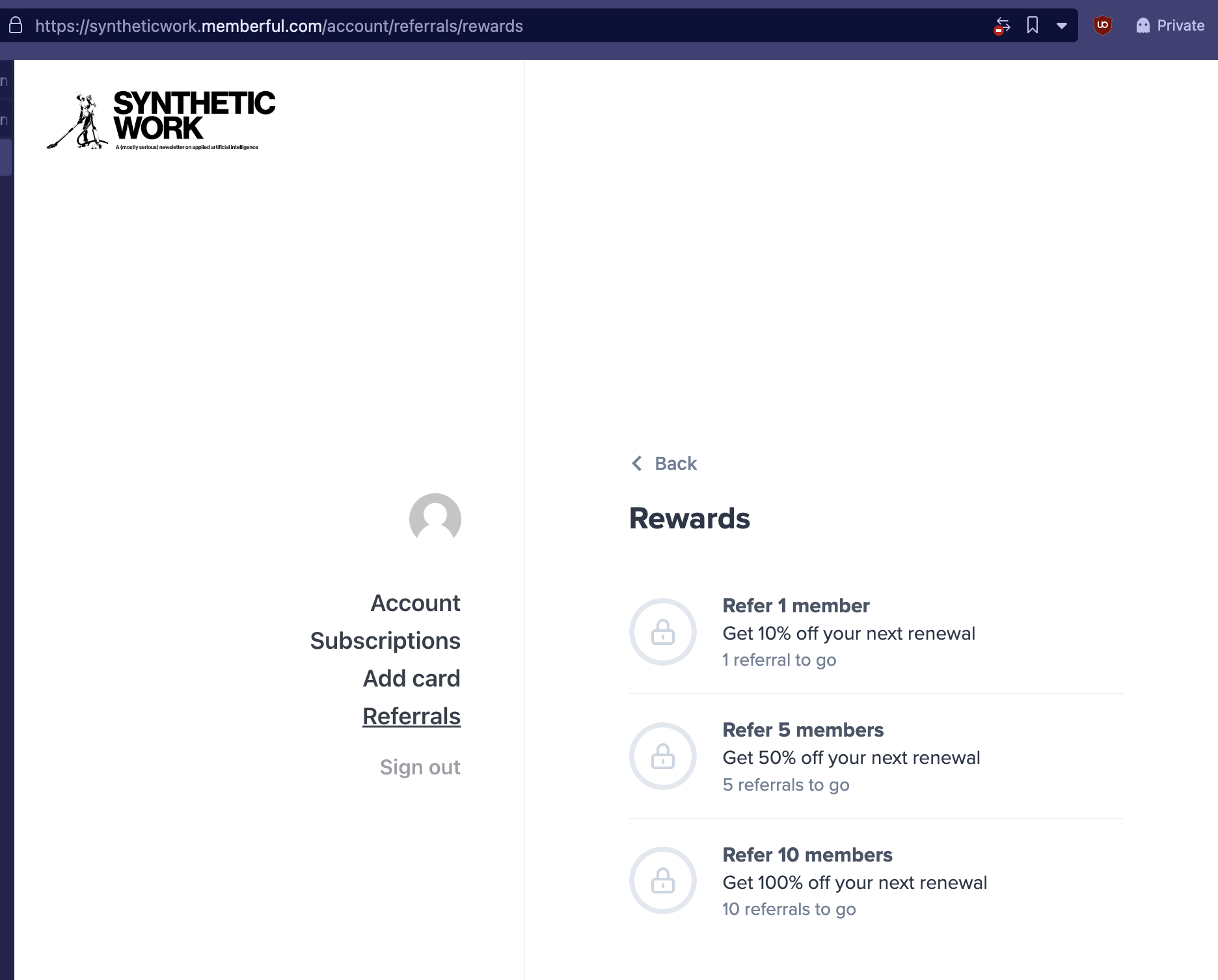 The system keeps track of how many people you have invited have subscribed and discounts your next bill automatically.
It's not super-intuitive but it's the best that Memberful allows me to do.
Now. Was this excruciatingly boring to read or what?
Alessandro
Look, it's awkward to say it, but you need a paid membership to read this.
I know you feel rejected, but it's not you. It's me.
This is the Free Edition of the newsletter and, well, it's free to receive in your inbox every week. But to access this online archive, you need a paid membership.
Read a sample of the Free Edition
Subscribe
* or
Sign in
*(you have spent money in worse ways)