OpenAI and Jony Ive are discussing a $1bn investment from SoftBank for their AI device project
September 28 2023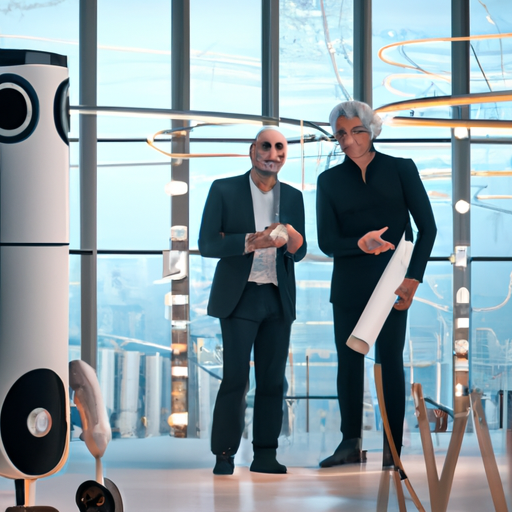 OpenAI, under its chief Sam Altman, is in advanced discussions with former Apple designer Sir Jony Ive and SoftBank's Masayoshi Son to initiate a new venture that aims to build a consumer device, described as the "iPhone of artificial intelligence". The venture will be supported by $1bn in funding from SoftBank. The goal is to create a user-friendly experience for interacting with AI, akin to the iPhone's transformation of mobile internet access. Although talks are reported to be "serious", no deal has been finalized yet and any resulting product may take years to bring to market.
What does it mean?
OpenAI: An artificial intelligence research lab made up of the for-profit organization OpenAI LP and its parent company, the non-profit OpenAI Inc. OpenAI's mission is to ensure that artificial general intelligence benefits all of humanity.
Sam Altman: An entrepreneur, investor, and programmer. He is currently the CEO of OpenAI. He was formerly the president of Y Combinator, a seed money startup accelerator.
Sir Jony Ive: A British industrial, product and architectural designer. He is best known for his work for Apple Inc., where he was Chief Design Officer (CDO) and responsible for many iconic Apple products like the iPhone, iPad, Mac, and more.
Masayoshi Son: A Korean-Japanese billionaire technology entrepreneur, investor, and philanthropist. He is the founder, chairman and CEO of SoftBank, a multinational conglomerate company.
SoftBank: A Japanese multinational conglomerate holding company headquartered in Tokyo. Softbank owns stakes in many technology, energy, and financial companies. It also runs Vision Fund, the world's largest technology-focused venture capital fund.
Consumer Device: A type of hardware or technology product intended for use by individuals or households, as opposed to business or industrial use. Examples include smartphones, laptops, kitchen appliances, and more.
Artificial Intelligence (AI): A branch of computer science that involves the creation of machines that mimic human intelligence. This could involve learning, reasoning, problem-solving, perception, and language understanding.
User-friendly Experience: Describing a product or system that is easy to use or understand. It's designed with the user's comfort and efficiency in mind.
Mobile Internet Access: The ability to access the internet via a mobile device such as a smartphone or tablet. It is usually accessed through a wireless network or data plan.
Does reading the news feel like drinking from the firehose?

Do you want more curation and in-depth content?

Then, perhaps, you'd like to subscribe to the Synthetic Work newsletter.
---
Many business leaders read Synthetic Work, including:

CEOs
CIOs
Chief Investment Officers
Chief People Officers
Chief Revenue Officers
CTOs
EVPs of Product
Managing Directors
VPs of Marketing
VPs of R&D
Board Members

and many other smart people.

They are turning the most transformative technology of our times into their biggest business opportunity ever.

What about you?